YOU can enter our Show competitions and prize draws (see below) and be part of this unique event that we stage for the community to come together and enjoy!……..And with FREE ENTRY for every visitor at this late Spring extravaganza ……..Save the dates in your diary Friday 6th & Saturday 7th May 10.00 – 17.00 to come along and visit our 11th edition of Show at the Villa Gadea Hotel with plenty of free parking, front and rear of the hotel, the venue is on the N332, Altea and just off the AP7 Motorway, Altea Junction No 64 turn-off.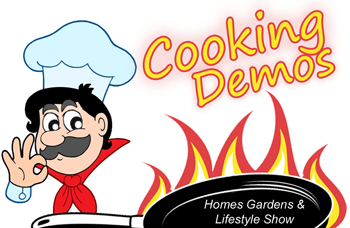 HE SHOW'S COOKING DEMOS … are complete…
Get ready to be cooked for and entertained by the famous Mister X restaurant, the BBQ kings from The Royal BBQ shop, the awesome Abi Satari from BB80 in Moraira and the delightful Delia Solstad from Casa de Sabores they will all be tantalising our tastebuds and sharing their creative flare !!
Watch this space for our next update!
LADY JAZZ will be joining us both day's singing live outside in the Garden Area by the Cooking Demonstrations appearing throughout the day, both days with some soulful jazz music to add to the Show's ambience. See the schedule below for performance interludes.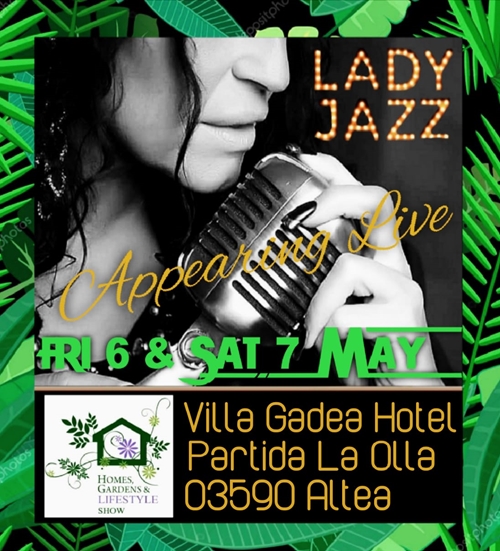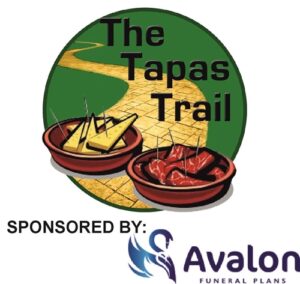 Enjoy the Show's Tapas Trail! … Collect your Tapas Trail card on entering the Show and as you browse around the Show and the 80 stands, be sure to stop at the participating businesses to collect your stamp and then enjoy the FREE sample tapas on offer from the corresponding catering/restaurant stand close by!O
Outside/Garden area – Collect stamp from stand No 41 – Apex Pool Covers….. then receive your FREE tapa on the next Stand No 42 courtesy of BREWROCK Beach bar in Altea.
Also in the Garden area we are planning another stopping point to win an amazing prize…… we will reveal all soon!
In Salon Palmeral look for Avalon on Stand No 10 collect your stamp and then see BB80 Bar and Bistro on the stand next door, No 9 and receive your FREE tapa and meet their restaurant team…….
In Salon Mediterraneo look for SARITAS Restaurant on Stand No 85 for your stamp to receive FREE tapas from their restaurant in Albir and meet their head chef and team.
Once you have completed the Tapa Trail, fill in the reverse side of the card then hand the card in on exiting the Show to be entered into the FREE Prize draw to win a meal for 2 at BB80, Saritas, and Brewrock!…… Good Luck! We hope you ENJOY this feature attraction at The Homes Gardens and Lifestyle Show!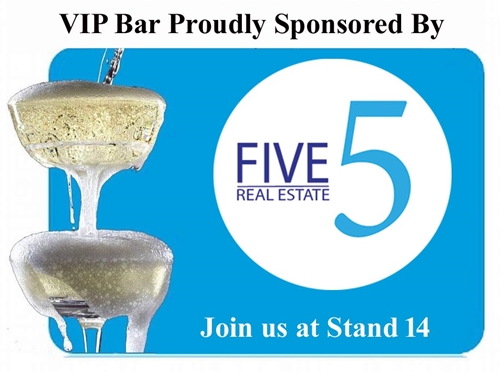 Be sure to stop by Stand no 14 in Salon Palmeral and meet the 5 Real Estate Team who are hosting the VIP Bar area and will be offering you a taste of White Sangria…….Summer garden party vibes and property news.
Enjoy the 2022 Art Competition/Gallery 'LIFE IN COLOUR'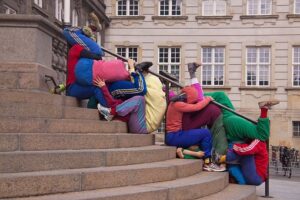 The Show's Art Gallery feature attraction is returning for our 11th edition!…… To give it a unique twist we have implemented a theme! LIFE IN COLOUR!……… You can enjoy browsing the entries by local artists and seeing their interpretation or take on the theme… LIFE IN COLOUR! …………. The Art Gallery will be located in the corridor between Salon Palmeral leading to Salon Mediterraneo enjoy the unique artwork and vote for your favourite interpretation!
This 'Artwork' Competition is open to any artist to enter one piece of artwork in the form of: an original painting, drawing, photograph, sculpture or arrangement.
Representing the theme 'LIFE IN COLOUR'…… Use your creative imagination and artistic talents to interpret and express the 2022 theme! Contact us here for an entry form.
Baskets In Bloom! Gardening/Flower Competition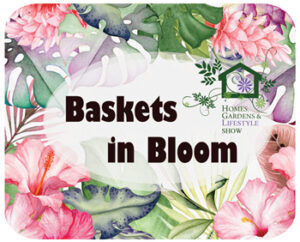 Hands up if you are a keen gardener, have creative flair or are a budding flower arranger …..
Put your blooms pride of place or be creative with an original flower/plant themed arrangement in the Homes Gardens & Lifestyle Show's miniature gardening competition!  You can enter you green fingered feature! Into our BASKETS IN BLOOM competition…….
Show off your green fingered talents and put your blooms pride of place by entering you creation at the Homes Gardens & Lifestyle Show……… styles acceptable are feature mini gardens, hanging baskets, flower and plant arrangements in baskets, vases, pots, or containers no bigger than 60 x 60 centimetres. ………
Entry Forms are now ready. To register your entry email us for an entry number and registration form.
Entries to be delivered to the Villa Gadea Hotel on Friday 6th May from 11.00 am, the judging will take place on Friday afternoon at the Show, and the winners announced and prize sponsored by Artificial Grass Spain awarded on Saturday at 4.30 pm in the outdoor/garden area………Good luck!
THE SHOW'S DAILY TALKS & DEMO'S
Get ready to be entertained, informed and inspired with the Show's line up of WELLBEING talks and demonstrations…….. Located in indoors in the Salon Mediteraneo, be sure to take your seat and enjoy the talks and workshops.
Outside in the Garden Area you will find the cooking demonstrations by our creative chefs and also easy listening to LADY JAZZ…….. enjoy the ambience and atmosphere.
Look forward to seeing you at our 11th edition of the Homes Gardens & Lifestyle Show on Friday 6th and Saturday 7th May at the Villa Gadea Hotel in Altea The Show/exhibition is  open from 10.00 am to 5.00 pm.